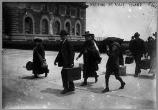 NOTE: ALONG WITH A LOT OF OTHER PEOPLE, I'M HAVING PROBLEMS GETTING IMAGES POSTED ON THIS WORD PRESS BLOG. WITH LUCK, THAT WILL BE RESOLVED SOON (I HAVE A TECH-SAVVY FRIEND WORKING ON IT), BUT WE MAY HAVE TO GO WITHOUT PHOTOS THIS WEEK. IF THAT HAPPENS, AND THE GLITCH IS FIXED, I WILL RUN THE POSTS OF THIS WEEK'S FEATURED BOOKS AGAIN NEXT WEEK, WITH IMAGES.
OUR CURRENTLY FEATURED BOOKS, "A RED, RED ROSE," BY SUSAN CORYELL, "SWINGING ON THE GARDEN GATE," BY ELIZABETH JARRETT ANDREW AND "FALLEN," BY MELINDA INMAN, CAN BE FOUND BY SCROLLING DOWN BELOW THIS POST.
—————————————————————–
UPCOMING ON SNOWFLAKES IN A BLIZZARD
"LONGING FOR HOME," BY LISA WAYMAN
Seventeen-year-old Irena clutches all of her belongings, waiting to be processed through Ellis Island in 1892. She hopes for a better life than she had as a Slovenian maid.
"Life in America is difficult and unsettling," she thinks. "I had the sensation of disintegrating. I felt myself in little pieces. Was I Slovene, American or even maybe Irish? Catholic or Pagan? For a moment I wasn't sure even if I were male or female. I felt myself dissolving into the mountains and the fresh blue sky."
Against the backdrop of the Wyoming cattle wars, an Irish neighborhood in Chicago's meat packing district, and through the depression of the 1890s in Durango, Colorado, Irena must tap into unknown strengths and learn to love herself and her husband in order to find her way home.
Longing for Home is a tale of exploration, love, hardship, resilience and finding one's place in the world, set against the backdrop of the great American Age of Immigration.
"FRATERNITY OF FRACTURES," BY MARK PANNEBECKER
From the Midwest book Review: "To call Fraternity of Fractures a 'crime novel' or a 'novel of suspense' would be to do it an injustice. Embracing elements of different genres (mystery, suspense, crime) and yet rising above them all with a sense of purpose and atmosphere that satisfyingly wings its way above and beyond most genre reads, it's an involving and evolved piece that ultimately connects the changing courses of very different lives…. Not for the mild-mannered reader in search of light entertainment, Fraternity of Fractures not only invites its readers to think – it demands it. The smoky backdrop of 1980s St. Louis in the midst of a crime wave is only one facet of a story about fractures, healing, and change: an exquisite standout in a world of fast and dirty crime scene whodunits that sketch their worlds without truly capturing their complexity."
"A MASTER'S PATH," BY PENELOPE JEWELL.
PEnelope writes: "This is a story about my training and first several years serving in a discipline called "Reiki" which was brought out of Japan into the United States just before World War II. I started my journey in 1985, mentored by the first Master on the East Coast. By that time there were training " intensives" which offered instruction in Aikido to train the mind as well as the body, calligraphy for Japanese kanji and symbols, council training – learning to be present to actually listen and observe, practice in the hands-on art of Reiki healing, and other rounded approaches to the concept of Mastery – a way of being, a path walked every day, not merely an accreditation or a credential. The concept of personal mastery fascinated me. I ended up selling my business so I could teach Reiki, personal empowerment and Mastery to others."
"A RED, RED ROSE," BY SUSAN CORYELL
.Since Susan's post last week was the most affected by the aforementioned problems, I'd like to mention it again and re-send her book summary. You can find it by clicking on her name on the Author page or scrolling down below the current posts.
When twenty-year-old Ashby Overton travels to Overhome Estate in Southern Virginia for the summer, she hopes to unearth her ancestral roots and the cause of a mysterious family rift surrounding the horseback riding death of her Grandmother Lenore many years ago.
From the moment she enters her room in the oldest wing, Ashby feels an invisible, enfolding presence. She learns the room belonged to a woman named Rosabelle, but no one is willing to talk about Rosabelle—no one except Luke, the stable boy who captures her heart. As Ashby and Luke become closer, she realizes he can be the confidant she needs to share the terrifying, unfolding secrets.
Ever present is a force Ashby never sees, only feels. Candles light themselves, notes from an old lullaby fall from the ceiling, the radio tunes itself each day. And roses, always meant for Ashby, appear in the unlikeliest places. Are the roses a symbol of love, or do they represent something dark, something deep and evil?