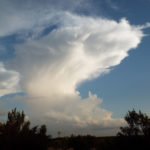 THIS WEEK'S CURRENTLY FEATURED BOOKS, "FILL THE STADIUM," BY K.M. DAUGHTERS, "THE BOMBER," BY DAVID O'SULLIVAN AND "LOOKING @ LIFE," BY POLLYESTHER, CAN BE FOUND BY SCROLLING DOWN BELOW THIS POST.
———————————————————
And now, for something completely different …
That was the intro for a long-ago TV comedy whose name escapes me now, but it's also appropriate for this week's featured Snowflakes books.
Every once in awhile, I think it's fun to stretch you a bit. That's why I was attracted to Nancy Blanton's novel "Sharavogue," which offers some rare  insights into British and world history.
You've heard of Oliver Cromwell, I'm sure, but what do you know about him? After reading this book, you'll never react to that name in the same way again.
Meanwhile, Bob Schofield's "Man Bites Cloud" is a collection of short verse/prose snippets that even he admits are weird. But also fun, and it won't take too much of your time to enjoy them.
Finally, how can you not pick up and peruse a book titled "Beautiful Ape Girl Baby"?
UPCOMING ON "SNOWFLAKES IN A BLIZZARD, JUNE 21-27.
"SHARAVOGUE," BY NANCY BLANTON
It is December of 1649 as England's uncrowned king, Oliver Cromwell, leads his brutal army across Ireland to crush a violent rebellion. Elvy Burke, daughter of a great warrior, wants one thing—to live her destiny as a leader and defender of her country. As the cavalry approaches, Elvy knows she will not give up easily.
When Cromwell cruelly beheads a village boy, Elvy vows to destroy him. After fleeing from his soldiers, she aligns with a Scottish outlaw whose schemes send them headlong into a tumultuous journey across the sea to the West Indies, where she is indentured on a sugar plantation. Here she must learn to survive, to discover the depth of her own strengths and emotions, and find a way back to Ireland to confront her sworn enemy.
Sharavogue is the compelling story of one girl's journey through the lawless lands of Ireland and the West Indies as she struggles claim her destiny.
"BEAUTIFUL APE GIRL BABY," BY HEATHER FOWLER.
Writes Heather, who describes herself as a "magical realist":
"This book was written based on a short story written in 2001. It took 15 years to go from concept invention to novel publication, but the time between made it a richer book. It's a story about a girl born to rich parents, resembling an ape, who fights societal expectations about beauty at the same time as fighting her own idealistic nature. The nurture/nature argument informs this book as does a free-wheeling exploration of gender."
"MAN BITES CLOUD," BY BOB SCHOFIELD.
Again, from the author: "I had been doing a thing for a while where I would post little poems as images on Tumblr. They worked well in that context. Something about the text being formatted into neat little cubes was pleasing to the eye, or at least seemed that way to me. It was fun to me. I kept going with it. Eventually I had so many they filled an entire book, and Publishing Genius was starting a new imprint called Ebook Flights, in which three small books would be bundled together. Mine was part of the first set, in great company alongside Lily Hoang's Invisible Women and Gabe Durham's Locked Away."
NOTE: As of last week, Snowflakes in a Blizzard crossed the 10,000 mark in Internet hits. That may not mean anything to anyone but me, but I think it's kind of cool.