THE BOOK: "Restless Souls."

PUBLISHED IN: April 10, 2018.

THE AUTHOR:  Dan Sheehan.

THE EDITOR: Sophie Buchan & Jennifer Kerslake (UK), and Robert Lasner (US).

THE PUBLISHER: Ig Publishing, a small, New York-based press devoted to publishing original literary fiction and political and cultural nonfiction.
SUMMARY: Set in the early-mid 1990's, Restless Souls tells the story of the friendship between three wayward Irish lads in their late twenties. Tom, Karl and Baz grew up together in down-on-its-luck Dublin. Friends since childhood, their lives diverged when Tom left home to be a war correspondent. Now, after three years embedded in the Siege of Sarajevo, he returns a haunted shell of the lad who went away.
Karl and Baz have no idea what they're doing but they are determined to see him through the darkness, even if it means traveling halfway around the world. Hearing about an unlikely cure at an experimental clinic, they embark on a road trip across California. But as they try to save Tom from his memories, they must confront their own – of what happened to their childhood friend Gabriel. And in doing so, they must ask how their boisterous teenage souls became weighed down, and why life got so damn complicated and sad.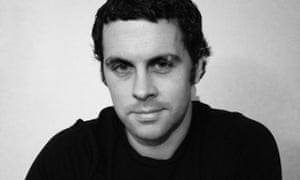 THE BACK STORY: I began this novel in the summer of 2013, in a little wooden library overlooking Lake Tahoe. Research took me to the central California coast, where I marveled at elephant seal rookeries, mysterious cliffside retreats, and roving bands of surfers. It brought me back to Sarajevo, a city I had fallen in love with when I visited back in 2007. And it led me home to Ireland, to old memories of growing up in Dublin.
WHY THIS TITLE?: Restless Souls is the name of the experimental PTSD clinic that the characters are desperately trying to reach in the novel, but I also wanted a title that would evoke the mental and emotional state of the characters at this point in their lives.

WHY WOULD SOMEONE WANT TO READ IT? The novel is a sort of hybrid–a blending of tragedy, comedy, and road trip quest narrative. It's a story about male friendship and how that can fracture and change as men grow up and apart. It's an depiction of the ripple effects of suicide on those left behind. It's also a love story and a war story, partially set inside the city of Sarajevo, whose inhabitants were subjected to the longest siege in the history of modern warfare back in the early-to-mid 1990s. I believe it's a novel that will resonate with readers who enjoy tragicomedy, tales of wartime resilience, and stories of friendship, memory, and loss.

REVIEW COMMENTS:
"A great rattlebag of a novel, RESTLESS SOULS turns genre inside out. At turns comedic, at turns literary, at turns thriller, at turns philosophical, it never stops being a page-turner." — Colum McCann (National Book Award-winning author of Let the Great World Spin).
"Tender and rambunctious and animated by a dauntless faith in human connection, RESTLESS SOULS is a book that that boldly ranges across the borders of nations, decades, and literary genres. Sheehan is a brave new voice in fiction, fusing comedy and heart to explore a friendship transformed by trauma, but vitally, achingly resilient nevertheless." — Alexandra Kleeman (author of You Too Can Have a Body Like Mine)
"RESTLESS SOULS is a wonderful debut by a talented, intelligent writer who knows how to make you think and make you feel and make you laugh. I devoured it." —  David Ebershoff (author of The Danish Girl)
"[A] stunning and moving debut novel … Sheehan's blend of breathless action, unsentimental depictions of love, and spot-on period touches will appeal to readers who like their hopeful narratives tinged with powerful uncertainties."
-(Publishers Weekly Starred Review).
AUTHOR PROFILE: Dan Sheehan is an Irish fiction writer, journalist, and editor. He is a graduate of Trinity College Dublin and University College Dublin. His writing has appeared in The Irish Times, GQ, The Los Angeles Review of Books, Guernica, TriQuarterly, Words Without Borders, Electric Literature, and Literary Hub, among others. He lives in New York, where he is the Book Marks editor at Literary Hub and a contributing editor at Guernica Magazine, and was a recipient of the 2016 Center for Fiction Emerging Writers Fellowship. He lives with his wife in Harlem, New York.
AUTHOR COMMENTS: This is a story that's been very close to my heart for some time now, and it's a wonderful (if a little daunting!) feeling to be able to send it out into the world. I hope it strikes a chord with readers–that they come to know and care for these characters as I do. The researching and writing of this book has been an incredible journey, one that has brought me to places and people I'll never forget. I'm incredibly grateful to all those who shared their stories with me, including survivors of the Siege of Sarajevo, researchers in the fields of neuroscience and PTSD treatment, and those who have suffered though depression and the loss of a loved one through suicide. Their strength, determination, and perseverance has been a true inspiration.
SAMPLE CHAPTER: The opening chapter of Restless Souls: https://www.guernicamag.com/restless-souls/
LOCAL OUTLETS (Manhattan): Book Culture, McNally Jackson, Housing Works.
WHERE ELSE TO BUY IT: