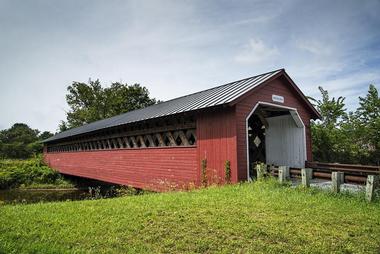 (Vermont covered bridge)
OUR CURRENTLY FEATURED BOOKS, "LITTLE MOCOS," BY JOHN PAUL JARAMILLO, "MY BROOKLYN WRITER FRIEND," BY GREG GERKE AND "IN A FAMILY WAY," BY ZEKE JARVIS," CAN BE FOUND BY SCROLLING DOWN BELOW THIS POST, OR BY CLICKING THE AUTHOR'S NAME ON OUR AUTHORS PAGE.
————————————————————————-
If someone were to compile a state-by-state ranking of well-known authors per capita, Vermont would have to be near the top.
That list would include Chris Bohjalian, Heidi McLaughlin, Mary Higgins Clark, Jodi Picoult, Dorothy Canfield Fisher, Wallace Stegner, Karen Hesse and Bill McKibben, among lots of others. Robert Frost wrote poetry about Vermont, Rudyard Kipling wrote "The Jungle Book" while living in Brattleboro. Oh, and a guy named Bernie Sanders, better known as a politician, has contributed his own work to the mix.
Meanwhile, of the 466 authors featured on Snowflakes in a Blizzard so far, 12 have Vermont connections. The latest is Beth Kanell, whose young adult novel "Cold Midnight" will be highlighted this week.
Writes Beth: "The book is based on a real 'cold case,' the murder of Sam Wah in 1921. It took 3 years for me to pry enough details from the oldtimers in town to realize what had happened, in this multi-ethnic Vermont town as the veterans of World War I brought their pain back to the region.
"Teens Claire Benedict and Ben Riley have been climbing the roofs of town at night — each for a different, and private, reason. When they meet, they realize they've seen something related to a recent murder of the Chinese laundry owner. Their struggle to work with the detective on the case, and stay out of major trouble, tosses them into danger from both fire and blizzard. Not to mention the criminal. Or is there more than one?"
At the other end of the East Coast, we have Jen Karetnick, a Floridian and author of "American Sentencing."  She says of her unique collection of poems:
"I'd always written about medical topics and illness, but I realized one day that I had enough to put together as a collection if I added some glue to the fabric. That glue was a few poems that told a little bit of my mother's story. Certain conditions are genetic in our family, and in Ashkenazi Jews in particular. I had written about my grandmother, myself, and my daughter, but I realized then that I was missing a generation. Those poems eventually became the raison d'etre of the book, and one of them became the title poem."
It's also time for another first Tuesday Replay.
UPCOMING ON SNOWFLAKES IN A BLIZZARD, AUGUST 7-13.
"COLD MIDNIGHT," BY BETH KANELL.
Writes one reviewer: "Cold Midnight is (paradoxically) a warm and beautifully written tale of two idealistic young persons who struggle not only to bring a fire setter/killer to justice, but to create peace and reparation within their own dysfunctional families. I really love this book!"
"AMERICAN SENTENCING," BY JEN KARETNICK
American Sentencing is a book of poems about chronic and invisible illness in all its forms, both physical and mental. It looks at various autoimmune diseases, cancers, bipolar disorder, clinical depression, Alzheimer's, and more. It investigates prognoses, symptoms, and complications from a variety of perspectives–not just from those who suffer from them, but from the caregivers' point of view as well. The invisibly ill walk through life on a fraught path, and those who walk with them encounter the same obstacles but in a different manner. As someone who lives with several invisible illnesses, I wanted readers to be able to see what happens to us and to those who take care of us. Eventually, everyone suffers from a chronic condition. Unfortunately, it's usually not real until it happens to you.
FIRST TUESDAY REPLAY
Thi month, we will revisit Marilyn McCabe's "Glass Factory," Charlie Quimby's "Monument Road," Arthur Levy's "Coda," John Hewitt's "Reptile Wines," Kathy Anderson's "Bull and Other Stories," and Ed Protzel's "The Lies That Bind."