This week's other featured books, "Night Court," by Erica Goss and "The Big Happiness," by Sam Gridley, can be found by scrolling down below this post, or by clicking the author's name on our Authors page.
——————————–
THE BOOK: night thoughts:  70 dream poems & notes from an analysis
PUBLISHED IN: 2013.
THE AUTHOR:  Sarah Arvio.
THE EDITOR:  Deborah Garrison.
THE PUBLISHER:  Alfred A. Knopf.
SUMMARY: night thoughts is an account of my psychoanalysis—a hybrid of poems, essay and memoir.   It begins with a sequence of 70 dream poems—irregular sonnets—that tell the dreams and explore the thoughts and memories that arose from them.  The narrative that follows discusses the images in the dreams and tells the resolution of the analysis.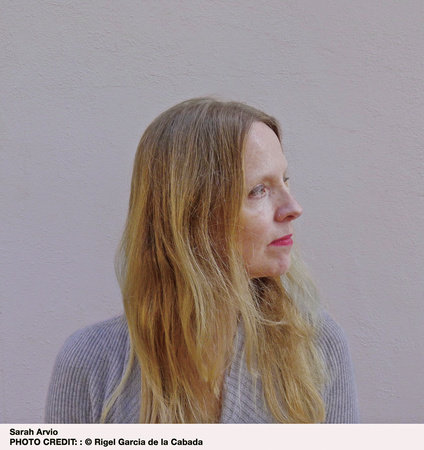 THE BACK STORY: I wrote many many pages of free-association dream thoughts during my analysis, but only for the purpose of delving deeper into my own life.  I had learned that there were few first-person accounts of psychoanalysis. And the cognitive therapies were taking over; there were fewer and fewer psychoanalysts in practice.
The cognitive psychologists are much less interested in exploring the mind and memories, and they profess the idea that willpower can alter the direction of your life.  I knew from my own life that no amount of willpower could alter my suffering.  It occurred to me that I had to write my story; I wanted to show what psychoanalysis could do.
Mine had been so powerful, so life-saving and life-altering.   And my notes were there to reread and consider. I first tried a prose book.  I couldn't get the dream life to come to life, and I gave up.   A year later, I sat down and began to write out the dreams as poems.
I did this almost without forethought.  The first of these poems was 14 lines; I could see that the brevity and orderliness of a sonnet was perfect for the description or expression of a dream.  I made a list of the germinal dreams and carried on.  I wrote the first 40 sonnets in about three months;  the rest came to me before the year was out. "Notes" was an afterthought, and an extraordinary rush of memory and feeling.
By then, I knew the everything there was to tell, and I swept through it in two months. Some readers have objected to the presence of these prose writings:  they want the poems to stand alone.
But I'm not sure they would feel that way if the poems in fact stood alone. In Notes, I describe the ways in which the images in the dreams lead to the memories that hold the secrets of what happened to me. The title "Notes" is a misnomer: the notes gather into a narrative. I boldly added an index that cross-references the images that appear in the poems and in "Notes."  I wanted readers to be able to read the book both forward and backward. Deb Garrison helped me weed out unnecessary sonnets, and later also helped me hone "Notes." It's hard to know what the book would have been or become without her insightful editing.
WHY THIS TITLE?: I chose my title night thoughts from my poem called "crying."
they are crying over their broken thoughts
crying over the night thoughts & the day thoughts
those are the ones they are crying over"
Googling my proposed title, I found Edward Young's book Night-Thoughts, from the Romantic period, with its stately caps and hyphen:
"I tremble at myself, / And in myself am lost!/ …. I wake, emerging from a sea of dreams/ Tumultuous; where my wreck'd desponding thought/ from wave to wave of fancied misery/ at random drove her helm of reason lost"
Young is pre-Freud and does not reveal the events and experiences that tossed him on this despondent sea. By "fancied" he means created by the imagination and the dreams — by fantasy.
WHY WOULD SOMEONE WANT TO READ IT? Some people may want to read night thoughts for the imagery of the dreams, and for the exploration of dream meanings and dream thoughts.  Some may read it for the poems themselves, and then find themselves drawn into the narrative.
Some may read it for what it will teach them about the relationship between traumatic life experience and dream thinking. An analyst I know told me that my book offered new understanding about the role of language in dreams. Others might be interested in how the mind of a young woman responds to a sexual trauma, and how that trauma in turn affects her in later life. Young women have been moved by new insight into their own intimate lives.
I sense that if I had written a book that was all prose, I would have had more readers: poems tend to challenge the minds of people not used to reading them.   Dreams, though, have many qualities that are like poems:  they are fluid, they allow surrealist leaps and connections, they are full of images, and they are imbued with story and feeling.
RESPONSES:
A friend warned me that critics would not like this book, and in fact they mostly ignored it.*  But many wonderful poets and writers responded with enthusiasm:
"Beautiful and courageous… I find myself gripped by the book's many piercing and recurring images, and deeply moved by the commentary… a marvelous achievement!" —Tracy K. Smith
"I read it obsessively all one night, it's like a thriller.  It made me believe in psychoanalysis all over again.  I love the form–not [seen] since La Vita Nuova and two books by Berryman, one prose and one poetry.   I felt the delicacy and sweet seductiveness of that little girl… the writing is so precise, almost scientific." —Edmund White
"What a brave & strange & compelling book it is." —L.S. Asekoff
"Who does not love the nighttime mind with its full disclosure, lack of censor— metaphor, innuendo, enchantment, intensity?  This is a book of mutual discovery for the poet and reader… influential because it is one of a kind…one so unique with such an alternate view of poetry is almost a game changer in the field." — Grace Cavalieri
"I marvel at the courage of that journey into the unconscious, and at the imagery found there, strange and intriguing, at once mysterious and clarifying…" —Grace Schulman
"A brave and original look at the terror, and wonder, of dreams." — Philip Schultz
"She has transformed the process of a patient in psychoanalysis into  a detective in search of the facts of a crime—a philosophical mind on a quest, a poet's mind investigating a haunting, a memoir of a soul written by her dreams." —Honor Moore
Publisher's Weekly: http://www.publishersweekly.com/978-0-307-95955-3.
AUTHOR PROFILE: I grew up in New York State, not far from Nyack, in apple country. There's a lot about my young life in "night thoughts," and at the same time very little.
I read constantly, I climbed trees.  I barely went to high school—by then I was living in a state of rarefied boredom and distress.  But later I had the great luck to attend the School of the Arts at Columbia, where I studied poetry and literary translation.  I'm a natural linguist, and this has played a role in the way that I think and write.  I love the sound of words moving in a rhythmic pattern across the space of my life; I like the sound of my voice inside my mind.
I often tell my thoughts to myself, and rehearse what I might say if I had the courage to say it.I'm not sure if I have a muse or a gang of muses; they tend to be around when I need them (and the voice is not always the same).  They weren't always there; they came to me fitfully and rarely in the years before my analysis.  The dreamwork—the writing out of the dream associations—opened up the passageways of my mind.
This seems to have attracted the muses.
ANOTHER COMMENT: 
Analyst and author Nathan Kravis compared night thoughts with Dora:
"This is a book that affirms the mutative power of psychoanalysis. Arvio does for psychoanalytic dream interpretation what Freud set out to do in writing Dora, except she does so not from the perspective of the virtuoso analyst, but from the perspective of the artist-analysand who finds in analysis the vehicle and venue for self-transformation and healing through deep exploration of her unconscious mind and unflinching examination of her own dreams. She renders this work courageously and poetically, creating a psychoanalytic tour-de-force that complements and parallels Freud's.
"At a time when psychoanalysis faces widespread skepticism about its validity and efficacy, Arvio's beautiful and absorbing work reaffirms its healing power while simultaneously enhancing our understanding of the psychology of traumatic memories and the artistic expression of traumatic experience."
SAMPLE
Two poems from night thoughts and an excerpt from "Notes"
 leopard
the leopard girl lands & she takes a turn
in the leafy woods she leaps & she lands
she is a leaper as I also am
look at her redbreasts as she takes the turn
those are my breasts I say to my mother
or as though to my mother who is dead
shiny red satin she wears on her breasts
under the spotted cape that flings out wide
who is the redhaired redbreasted leaper
all burning up in her greengirl joy
a leaper of a girl that's what she is
coy bravura the joy of her breasts
look how she glitters in her coyjoy
how brave she is in her red satin breasts.
red satin
I'm in a red satin dress with red lace
there are two men I don't know which is mine
the penis of one man sticks straight up
through the flaps of his hangingout shirt
I don't know which man is the other man
there's a black rotary phone & a wad
of black opium I buy a dollar's worth
the poppyblack looks nice with red satin
I smoke & smoke in my red satin
It's a red dress I sat in as I smoked
the other man I don't know what he does
I keep the black wad resting on my lap
the opium on my red satin lap
like the poppy with its opiate heart
leopard
"leopard": When the leopard girl flew through the woods in her red satin bodice and spotted cape, I was awed by her glorious stage-girl beauty and panache. She was auburn-haired, so she wasn't me. But there were the breasts, just like mine, and my envy of her bravery and joy.
She's another cat, isn't she—a wild cat.
Sex seemed scandalous, necessarily secretive. In "red satin," a sort of opium dream, there are two men, and I don't know which is mine. This dream is one of countless dreams in which I'm with more than one man. Often, there are two men. My relation to them is uncertain. Often, I love one, but kiss the other, and therefore lose the one I love.
My dream imagery is sometimes dull and colorless, and sometimes extraordinarily beautiful in an abstracted way. Both "leopard" and "red satin" were intense, powerfully colored—much like the colors of a poppy.
WHERE TO BUY IT: Penguin Random House, Amazon, Barnes & Noble, etc.
PRICE: Paperback, $18.00. But buy the remaindered hardcover.. the book won First Prize in the New York Book Fair, 2013!  I designed the layout of the poem page, with the title at the top and the sonnet below, all lower case.
The cover by Elena Giavaldi shows a floating, many-colored ribbon (evoking the colors that formed patterns in the dreams) on a deep nightblack background.
For end papers, we used my journal pages, in negative—white font on black background, to match the cover.
Confusingly and wonderfully, Giavaldi posted other covers she made for the same book; google-searching "night thoughts book covers," you'll see three of these alternates.  My favorites: mysterious swatches of cloth—hats, scarves— on a cream background; and sky-blue, red and black scribbles on a cream background.
CONTACT THE AUTHOR: #saraharvio arvio@icloud.com
http://www.penguinrandomhouse.com/books/218124/night-thoughts-by-sarah-arvio/