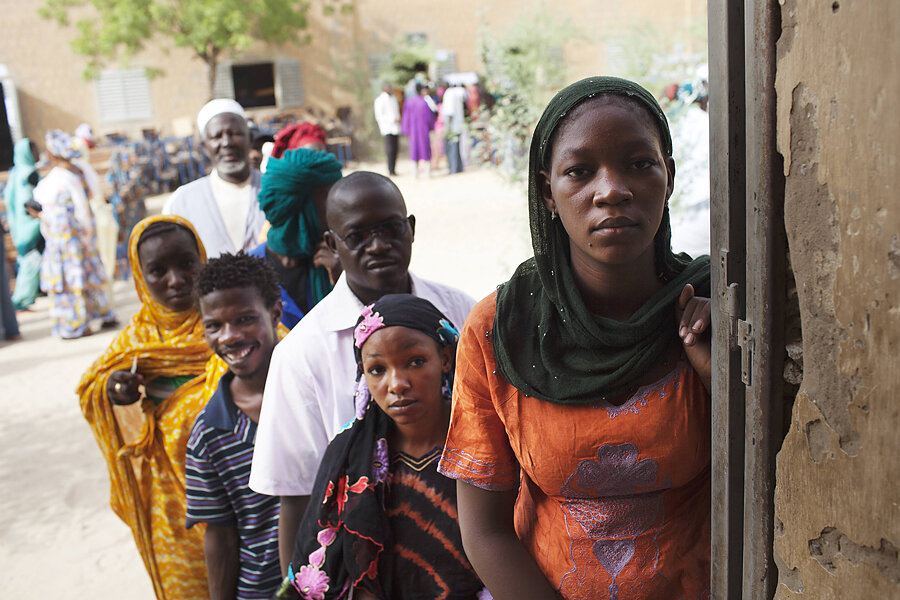 (Sub-Saharan Africa. Photo from the Christian Science Monitor).
Our currently featured books, "The Tourist Trail," by John Yunker, "Among the Maasai," by Juliet Cutler,  "Mostly White," by Alison Hart and "Requiem for a Robot Dog," by Lauren Scharhag, can be viewed by scrolling down below this post. Or, click the author's name on our Authors page.
——————————————————————-
It has always been my contention that every author is capable of producing a book that no one else in the world could write, or has ever written.
That's because each individual draws from a unique combination of knowledge, genetics  and experiences — where they grew up, who their parents are, what they were taught in school, where they've worked, where they've lived, who they've loved, what movies they've seen, what books they've read, what music they've listened to .., on and on. Not even identical twins have exactly the same profile.
All too often, though, life gets in the way of serious writing. There just isn't time for it. Yet  it can be argued that this is a plus for later creativity — if all someone did all their adult life was sit in a room and type on a computer, they would have a shallow well of experiences to tap into.
The problem for people like Jeff Elzinga, whose novel "The Distance Between Stars" is being featured on Snowflakes in a Blizzard this week, is that they come late to the party as authors.  They've been too busy living. That's a double whammy, as far as many publishers and agents are concerned, because someone like Jeff is a) an unknown author and b) offering work that doesn't fit neatly into any "genre." In their eyes, this would make him a tough sell to the general reading public.
As part of the baby boomer generation, I know that there is a sizable "second career" group who have retired and now have the time to write that book they've been thinking about for 20 years. As someone who tries to provide publicity for writers, I'm proud to help, albeit in a small way.
Incidentally, I'm going to continue posting four books instead of three for the next couple of weeks. I still prefer three, but right now I have a backlog of authors.
UPCOMING ON SNOWFLAKES IN A BLIZZARD, JUNE 16-22.
"THE DISTANCE BETWEEN STARS," BY JEFF ELZINGA.
The Distance Between Stars is the story of two Americans divided by history and skin color. Joe Kellerman, white, is an accomplished diplomat who has spent his career solving difficult problems in sub-Saharan countries. Maurice Hightower, black, is a prize-winning but controversial journalist who has spent his life exposing injustice in the United States. During a fact-finding trip to an African country that is quickly sliding towards civil war, and where the U.S. government is accused of supporting the  increasingly violent opposition, Hightower travels alone into the bush and then disappears. The dangerous assignment of finding the missing man and bringing him to safety falls to Joe Kellerman. The story follows Kellerman's hunt for a man he does not admire, traces Hightower's pursuit of a truth that ever eludes him, and balances the costs each man must pay to find redemption for a life lived imperfectly. While the novel takes place in Africa, it is a uniquely American story.
"SHARED STORIES FROM DAUGHTERS OF ALZHEIMERS," BY PERSIS GRANGER.
Writes Persis (better known as "Perky"): "In the 1990s my stepmom developed Alzheimer's disease, and I found myself agonizing over every decision that had to be made, thinking I had solutions to problems, but each time Alzheimer's "outgrew" the problem, creating new issues to resolve. The stress and guilt it engendered led me to ask, "Does every family coping with a parent's Alzheimer's feel as crazy as I do?" To find out, I reached out to thirteen women— some known to me, some recommended by others—and asked them if they'd like to write a chapter about their experience. All but three immediately agreed. In a sad postscript, two of the writers, both with a strong family history of Alzheimer's, have since died of the disease."
"THE LUCKIEST SCAR ON EARTH," BY ANA MARIA SPAGNA
Charlotte Potts never wanted to leave Colorado. But when her mother loses her job under mysterious circumstances, they move to a remote corner of the Pacific Northwest where Charlotte is reunited with her father, Larry, a former logger with a lucky scar. They're getting along surprisingly well, snowboarding together as Charlotte trains for the national championships until Larry signs a petition to stop a proposed condominium development and loses his job at Timberbowl, the local ski area, which causes Charlotte to lose her place on the team. While Charlotte tries to find another way to compete, Larry persuades her to go snowboarding in the backcountry where adventure turns to tragedy and Charlotte has to take charge. Eventually, she and her friend, Rose Gutierrez, and a handsome apple grafter wade into freezing water to try to make a difference. THE LUCKIEST SCAR ON EARTH combines the thrill of winter sports with a tender family story while exploring the difficult choices people make to protect the places and people they love.
"DEAD SHARK ON THE N TRAIN," BY SUSANA H. CASE.
Writes Susana: I often write about love, gender, objectification, and violence. There are three sections to the book. The first section is organized around the idea of the stereotype of the living doll, and rebellion against that concept. The middle section, an ekphrastic section, is inspired by the life and the nutshell studies, crime model constructions, of Frances Glessner Lee, "mother of modern forensics," and includes some black and white images of her works that are in the public domain. There is even a cocktail recipe in the section. The third section, which includes the title poem, focuses more fully on the negative effects of objectified existence.
"The title is from a poem in the collection. The poem was inspired by an actual event, someone bringing a shark onto the New York City metro. There are many unusual things that have happened in the New York City subway system and this was one of them."