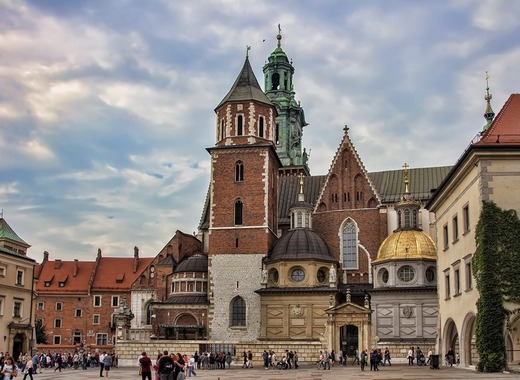 Krakow, Poland (Deposit photos).
Our currently featured books, "Family, Genus, Species," by Kevin Allardice, "The Zipper Club," by Thomas Mannella and "Kimber," by J.K. Hingey, can be found by scrolling down below this post, or by clicking the author's name on our Authors page.
———————————————————————————–
UPCOMING ON SNOWFLAKES IN A BLIZZARD, JULY 28-AUGUST 3
"KRAKOW," BY SEAN AKERMAN
Writes Sean: "I'm drawn to sparse titles: often single words that evoke some question or mystery. Much of this story takes place in the walls of a Brooklyn apartment, as well as inside the walls of the characters' minds. But they each speak of a trip they took to Krakow together in which they were, at least momentarily, the best versions of themselves. So as a place, Krakow and its connotations loom large. I've also spent time in Krakow. It is by far the most compelling city I've visited, and I felt the need to write about that."
"FROM THE LAKE HOUSE," BY KRISTEN RADEMACHER.
Dizzy with grief after a shattering breakup, Kristen did what any sensible thirty-nine-year-old woman would do: she fled, abandoning her well-ordered life in metropolitan Boston and impulsively relocating to a college town in North Carolina to start anew with a freshly divorced southerner. Dismissing the neon signs that flashed Rebound Relationship, Kristen was charmed by the host of contrasts with her new beau. He loved hunting and country music, she loved yoga and NPR; he worried about nothing, she worried about everything. The luster of her new romance and small-town lifestyle soon—and predictably—faded, but by then a pregnancy test stick had lit up. As Kristen's belly grew, so did her concern about the bond with her partner—and so did a fierce love for her unborn child. Ready or not, she was about to become a mother. And then, tragedy struck.
Poignant and insightful, From the Lake House explores the echoes of rash decisions and ill-fated relationships, the barren and disorienting days an aching mother faces without her baby, and the mysterious healing that can take root while rebuilding a life gutted from loss.
"PHOBOPHOBIA," BY KARL ELDER
From one reviewer: "Wisconsin poet Karl Elder's full-length collection Phobophobia personifies our fears, presenting them in alphabetical order from acrophobia (height) to zoophobia (animals), with a handy glossary in the back. In between A and Z lurk the usual suspects: darkness, death, and ghosts—along with obscure ones like fear of machines, writing, time, symbols, and jealousy. In this collection, the touch of surrealism inherent in Elder's style is enhanced by the skewed perceptions of the various sufferers narrating these poems. The book's psycho-poetic explorations range from cathartic to enjoyably ridiculous."