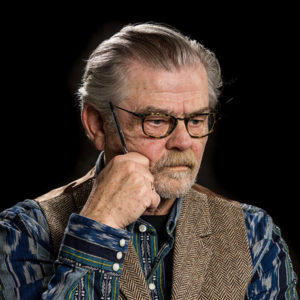 THE BOOK: Phobophobia.
PUBLISHED IN: 2019 (a re-released edition of the 1987 out-of-print Prickly Pear Press version),
THE AUTHOR: Karl Elder.
THE PUBLISHER: Cyberwit.
THE BACK STORY: In my twenties I wanted to write what used to be called a longpoem just to see if I was capable of doing so with limited life experience. Nothing hit me for years. Finally, illumination. Literally. I saw a child in dark closet cover the beam of a lit flashlight with his mouth. Holy Hades! His cheeks flamed like distant tail lights. Claustrophobia came to mind, and later, alone, I let my mind wander in pure wonder, which triggered moments of humor, never having appreciated some of the fears expressed by friends and family—only my own childhood fear, not suddenly finding myself in, say, tight quarters, but frozen, unable to climb down a ladder off of a roof or some other height I'd scaled. All my worst dreams are about sweaty hands hugging cliffs, tree limbs, or metals, like the uppermost cables on expansion bridges. The terrifying, teasing absurdity of it all. The hole in the stomach, that roller coaster drop.
So—leaping now to the point—I made a pilgrimage those years ago through all of my spiral notebooks, found phrases, images, sounds, paradoxes, scraps of hilarity. Recopied them all on small strips of paper. Chose, one at a time, particular phobias listed in Steadman's Medical Encyclopedia that intrigued me, and rifled through piles of those notebook gems until one or two or three or four of them felt right.
The process was analogous to working on a term paper as a student: observation, reading, notes, assembly, writing, discarding, eventually producing chains of associations, only now using sometimes sounds, sometimes logic, sometimes the subconscious, etc., as instruments of order. It took ten years. So liberating the chore was that I'd shy away from it for stretches at a time, not wanting the experience to end. When the journal Poet and Critic grabbed four of those poems, I knew I had a viable manuscript. Dave Oliphant graciously lent his Prickly Pear Press imprint to the first edition of the book in conjunction with my literary magazine, Seems.
WHY THIS TITLE?: Having exhausted my notebooks, I gathered all the pieces—56 of them (actually 57, but I threw one out because, simply, I wasn't satisfied with it)—and I concluded that Phobophobia was the most suggestive of a handful of titles that had surfaced. At the time, I had found no documented case of an affliction, phobophobia. I suppose one might think, though, that such a title was as natural as it might have been inventive, given how many times I'd penned the word root.
WHY WOULD SOMEONE WANT TO READ IT? The collection is apparently (dare I say?) as wild and exciting to read as it was to write. I chose to list blurbs in appreciation of Phobophobia on the back of my following book in 1994, A Man in Pieces (how could I have imagined that three of the five authors of the blurbs would subsequently become Pulitzer Prize recipients?):
A truly remarkable collection full of strong altogether original pieces. –Lucien Stryk
I am greatly enjoying Phobophobia. What a good idea. What good poems. –Mark Strand
Very original! Crazy and wonderful. –Charles Simic
. . . A brilliant idea well and faithfully pursued. –William Matthews
. . . wonderfully various and surprising . . . –Stephen Dunn
REVIEW COMMENTS:
"Wisconsin poet Karl Elder's full-length collection Phobophobia personifies our fears, presenting them in alphabetical order from acrophobia (height) to zoophobia (animals), with a handy glossary in the back. In between A and Z lurk the usual suspects: darkness, death, and ghosts—along with obscure ones like fear of machines, writing, time, symbols, and jealousy. In this collection, the touch of surrealism inherent in Elder's style is enhanced by the skewed perceptions of the various sufferers narrating these poems. The book's psycho-poetic explorations range from cathartic to enjoyably ridiculous." —Michael Kriesel in Stoneboat
AUTHOR PROFILE: Karl Elder is Lakeland University's Fessler Professor of Creative Writing and Poet in Residence. Among his honors are the Christopher Latham Sholes Award from the Council of Wisconsin Writers; a Pushcart Prize; the Chad Walsh, Lorine Niedecker, and Lucien Stryk Awards; and two appearances in The Best American Poetry. His most recent books of poems are Gilgamesh at the Bellagio from The National Poetry Review Award Book Series and a chapbook, The Houdini Monologues. Forthcoming in 2020 are Reverie's Ilk: Collected Prose Poems and Alpha Images: Poems Selected and New. Elder's novel, Earth as It Is in Heaven, appeared in 2016 from Pebblebrook Press.
AUTHOR COMMENTS: Thrilled one day by an out-of-the-blue invitation from Cyberwit to consider sending the publisher a manuscript, I had just previously bemoaned that Phobophobia was out of print, since some readers considered the collection to be among my most engaging and innovative work. I'm very pleased to have it back in circulation. Humor, after all, is perhaps the best medicine for what haunts us.
SAMPLE:
(Acrophobia)
Life is just time to fill between my act.
— Karl Wallenda
But what we want to know down here
is what's death.
Something like perpetual vertigo?
The body's waters'
lust for their own level?
Or is it not that simple?
Like a life spent
trying to get your grip in a thimble.
WHERE ELSE TO BUY IT: Cyberwit.net Amazon.com.
PRICE: $15.00
CONTACT THE AUTHOR: http://www.karlelder.com
elderk@lakeland.edu