THE BOOK: Their Houses
PUBLISHED IN: 2018
THE AUTHOR: Meredith Sue Willis
THE PUBLISHER: West Virginia University Press (https://wvupressonline.com/)
SUMMARY:  As children, two sisters make homes for their toys out of matchboxes and shoeboxes, trying to create safe places after the loss of their mother to psychosis.
Grace, now a schoolteacher married to a doctor, appears to have a conventional life but has a breakdown during an undesired move from one house to another. Dinah has married a self-ordained preacher with a troubled past and tries to keep her children safely separate from the world. Meanwhile, a childhood friend is linked to a militia's abortive attempt to blow up the FBI's fingerprint records facility in West Virginia, and later builds an isolated survivalist compound in the mountains.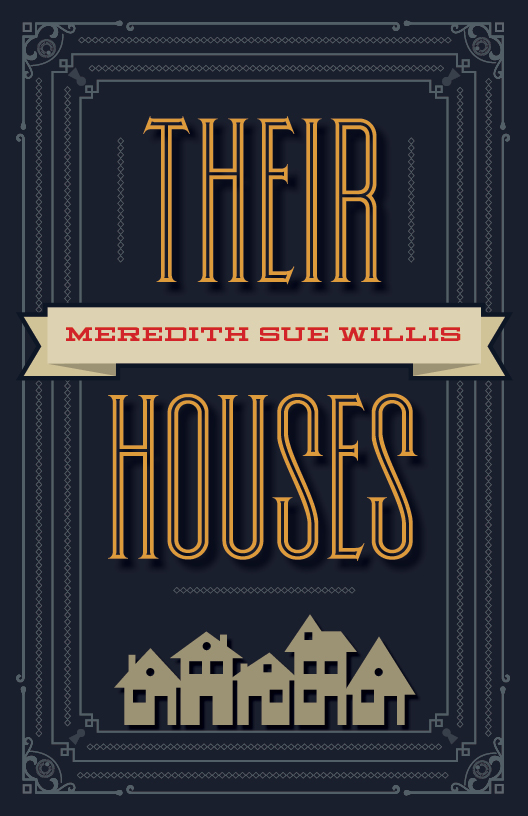 These three adults, closely bonded in childhood, are reunited on this acreage once owned by a white supremacist group, where they discover in various ways that there is no final protection, no matter how hard they strive to find it or make it.
THE BACK STORY: See the Author comments below.
WHY THIS TITLE:  This wasn't supposed to be the title. I wanted to call it Safe Houses, but just as it went into production, the staff at WVU press discovered that a book had recently been published called Safe House, so we all brain stormed frantically to come up with something different. Their Houses works, but it isn't the name of the game the children play.
WHY SOMEONE WOULD WANT TO READ IT:  For me, children struggling to survive always makes compelling fiction, whether it's Harry Potter or The Empire of the Sun. So I'd be drawn to the little girls in the dysfunctional family. I'm also fascinated by people who create their own religions or mythologies, not to mention those with world views that allow them to attempt to create their own worlds.
REVIEW COMMENTS:
"Full of surprising twists and turns, this sharp, tough-minded, compelling novel takes us deeply into its high-low milieus and conflicted characters. A cross between noir and redemption, it's a terrific read." — Phillip Lopate, author of Portrait Inside My Head
"A timely story." — Kirkus Reviews
"A surprisingly tender portrait of the bonds that keep friends and families afloat." == Foreword Reviews.
"Their Houses gives its readers many of the best elements one could want from a novel: flawed characters portrayed generously, well-balanced plots, and a clear, conversational narrative voice that guides the reader along. With an entertaining blend of high-action farce and moving interpersonal drama, Their Houses both entertains in the moment and lingers after the last page." — American Book Review.
A timely, relatable read." — Appalachian Heritage
"Every move in this jolt-filled tale—told in the sweet, slyly humorous cadences of West Virginia—is perfect. Willis has the stuff from beginning to end." — Diane Simmons, author of The Courtship of Eva Eldridge
"With deep sympathy for her characters, Willis writes in lucid and compelling prose about one of the dark undersides of American life. Their Houses reads fast, as a compelling series of mysteries, and reminds us of how much legacy we all carry, not only in our bodies and our genes but in our stories." — Jane Lazarre, author of The Communist and the Communist's Daughter and Beyond the Whiteness of Whiteness: Memoir of a White Mother of Black Sons
AUTHOR PROFILE: Meredith Sue Willis teaches novel writing at New York University's School of Professional Studies. She is the author of twenty-two books, including A Space Apart, Love Palace, Out of the Mountains: Appalachian Stories, and Oradell at Sea . . She has received literary fellowships from the National Endowment for the Arts and the New Jersey State Council on the Arts and has won awards such as the PEN Syndicated Fiction Award, the West Virginia Library Association Literary Merit Award, and the Appalachian Heritage Denny C. Plattner Prize for both fiction and nonfiction.
She also occasionally writes science fiction and chapter books for children.
AUTHOR COMMENTS:  This novel came out of many years of driving from the northeast to my home town in West Virginia. I used to pass a church on a hillside off Route 68 that was shaped like a llighthouse and had a neon cross. I always imagined that someone created that church to fit his own private imagery. Meanwhile, in the newspapers, there was a bizarre plot to blow up a new FBI fingerprinting headquarters in Harrison County, WV, and I later learned that the writer of the Turner Diaries once owned property in West Virginia. Then I began to imagine these two little girls who spent most of their life on their own, and what that would mean to them growing up. I kept seeing them in that landscape I knew, with some of those elements for background. This is what's fun about writing a novel, how you get to use all the bits and pieces you've been musing over for years.
SAMPLE CHAPTER:
http://www.meredithsuewillis.com/Opening of Their Houses.pdf
WHERE TO BUY IT:
The usual suspects online like Amazon.com, Barnes & Noble, Bookfinder.com, or WVU Press at https://wvupressonline.com/node/760
PRICE: $19.99, but there are discounted prices online.
CONTACT THE AUTHOR: meredithsuewillis (at) Gmail (dot) com