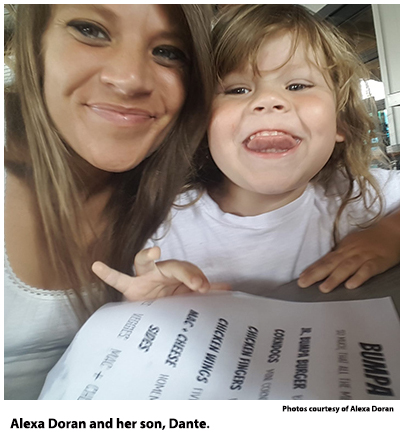 This week's other featured books, "Butterflies in Me," by Denisha Seals and "Further News of Defeat," by Michael X. Wang, can be found by scrolling down below this post, or by clicking the author's name on our Authors page.
————————————-
THE BOOK: DM Me, Mother Darling.
PUBLISHED IN: 2021.
THE AUTHOR: Alexa Doran

THE EDITOR: Jody Hetherington .
THE PUBLISHER: Bauhan Publishing.
SUMMARY: This collection meets at the intersection of pop culture and grief. Readers will re-explore the Peter Pan narrative from Mother Darling's point of view as well as navigate the ever-changing waters of 21st century parenthood through the eyes of a single American mom.

THE BACK STORY: This book is inspired by my son, Dante, J.M. Barrie's Peter Pan, and my greatest fear: losing my son.
WHY THIS TITLE?: The title is the invention of my colleague, Eleanor Boudreau.

WHY WOULD SOMEONE WANT TO READ IT? Parents are the primary audience of this book; however, I have found that anyone who is tangled in their own dread and joy feels its resonance.
REVIEW COMMENTS:
DM Me, Mother Darling sears its argument in the flesh, demands that any rhapsodies we sing for our children be flecked in saliva, grieves for loss of innocence even as it recognizes that such a thing never existed. Doran has crafted an exceptionally nuanced debut, an ode to motherhood in the internet- and post-truth-ages that simply refuses to let go. " — Dorsey Craft, https://losangelesreview.org/reviewed-dorsey-craft/
"DM Me, Mother Darling is messy and chaotic and massively risky, choosing deliberately to abandon sense and side with the divine chance of language to carry the narrative when grief becomes too heavy and too wild to hold logic on its shoulders. Grief isn't logical. Ache isn't logical. Pain isn't logical. This book attempts, by way of essentially becoming an onomatopoeia for the drunkenness of grief, to show how language—through affiliation, through sound, through metaphor—can tell the story at a slant. – Audrey Gidman, https://readdrizzle.blog/2021/06/20/review-dm-me-mother-darling-by-alexa-doran/
AUTHOR PROFILE: Alexa Doran lives in Tallahassee, FL with her son, Dante, and her Yorkie, Battle Max Mercutio. She teaches English, Creative Writing, and Literature courses at Florida State University and Tallahassee Community College. In 2019, Doran released a chapbook from Bottlecap Press title Nightsink, Faucet me a Lullaby. She is currently working on a collection composed of love letters to American icon, DJ Casey Kasem.

AUTHOR COMMENTS: The collection often interrogates capitalism, rape culture, alcoholism, sexuality, and America's vast silence in the face of trauma.
SAMPLE: https://poets.org/2021-high-tea.
LOCAL OUTLETS: My Favorite Books
WHERE ELSE TO BUY IT: Amazon
PRICE: $8.42 on Amazon / 17.00 from Bauhan Publishing
CONTACT THE AUTHOR: @realLEXcalibur / aed16e@fsu.edu / alexadoran.com